Aaron Halik, Moorhead entrepreneur, is on a mission to revolutionize the lawn care industry.
For as long as Halik can remember, he has always been thinking about how to make things better. With every idea for improvement, he writes it on a slip of paper, dates it, and keeps it in a jar to return to later.
One of those ideas led to the development of a product called Trimyxs, an electric weed trimmer and edger attachment for a push mower. After years of hard work and troubleshooting, the Trimyxs features a patented design allowing for the attachment to transform from a weed trimmer to an edger.
Halik's Entrepreneurial Journey
The 26-year-old flexed his first entrepreneurial muscle in his hometown of Nevis, Minnesota—a don't blink or you'll miss it town of 350 people. Halik started a lawn mowing business at age 12 in response to the growing number of people who summered in Nevis and needed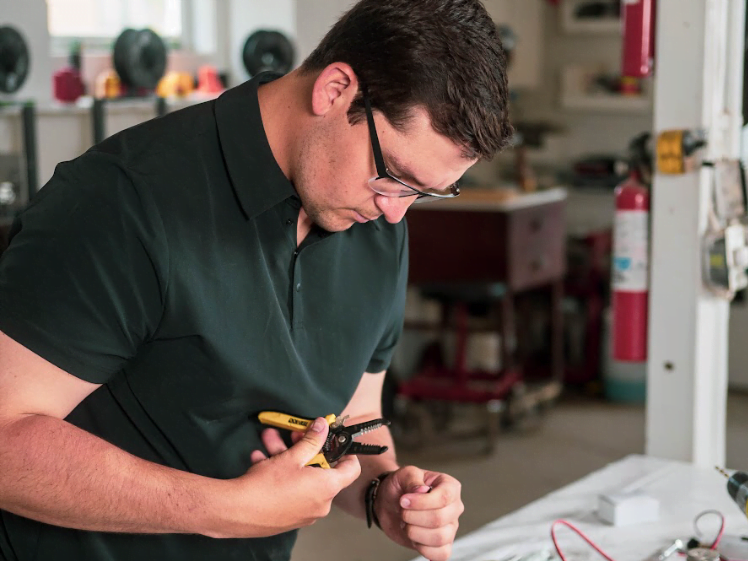 lawn care services.
He didn't own a trailer at the time, so he stuck to push mowing. After an hour of push mowing, he'd pull out the weed trimmer for another hour of work. He remembers thinking, "Wouldn't it be cool if someone could invent a weed trimmer that attaches to your push mower?"
This 2-in-1 push mower and weed trimmer idea stuck with Halik for years as he moved to the Fargo-Moorhead area to earn a degree in Mechanical Engineering from North Dakota State University. When curiosity got the best of him, he zip tied a weed trimmer to his push lawn mower. He was amazed at how well it worked and immediately began the process of product improvement.
Halik's next step was to build a prototype using materials from Menards. In his third year into pursuing Trimyxs seriously, he purchased a 3D printer to print his own prototypes. The 3D modeling knowledge he learned at NDSU was crucial in this phase of development.
During this time, Halik realized he was on to something. His simple idea evolved into a mission to disrupt the current lawn care industry status quo. "I wanted to create a tool that simplifies lawn care and to specifically change the industry standard of the traditional weed trimmer," Halik said.
He kept the work fairly private, only telling close family and friends. Halik dedicated most evenings and many weekends to optimizing the Trimyxs. For the past two years, he has also been working with a local attorney which led him to filing a Utility Patent.
Currently, Halik is manufacturing units to sell. He has transformed his basement to function as the assembly house to produce 500 units in preparation for selling Trimyxs to consumers this summer.
A Team Effort
What really helped propel Halik's idea for Trimyxs forward in the early stages was supportive family and friends. His mom, Sara, heard a Northwest Minnesota Small Business Development Center radio ad in Nevis calling for good ideas or new products. When Halik reached out, he was directed to the West Central Minnesota Small Business Development Center (SBDC) which serves the Moorhead region. This nonprofit organization assists small businesses and entrepreneurs by offering free consulting services and resources as needed in business and product development.
From there, he made a series of connections to individuals and organizations to spur him along on his entrepreneurial journey including help with marketing, website development, patenting, and more. Through assistance from SBDC, Halik began building his website, conducting product testing, designing his logo, and more.
Halik utilized LegalCORPS, a nonprofit organization offering free consulting for 30 minutes every month, for legal advice in the early stages of Trimyxs. Later, he connected with Tom Kading, a Patent Lawyer of Fargo Patent & Business Law, for more advanced legal help. "He walked me through everything I needed to know about a provisional patent, utility patent, and trademark," Halik said. "It was those little steps that made big steps happen."
In January 2022, the Trimyxs team grew when Halik's parents, Brian and Sara Haik, became part-owners of Trimyxs. Along the way, Halik's fiancée, Marissa Bridgeman, has been vital to the growth of Trimyxs through marketing, website, and technical writing support.
"It's been really encouraging and helpful for making decisions," Halik said. "It's great to talk through things with others whereas it's hard when you're spinning in your head about which direction to go."
Working With Greater Fargo Moorhead Economic Development Corporation
Another major resource for Halik has been Chief Innovation Officer, John Machacek, at the Greater Fargo Moorhead Economic Development Corporation (GFMEDC). The GFMEDC's primary entrepreneurial support focus is on the startup entrepreneur as opposed to the more traditional small business entrepreneur.
"I've always appreciated an underdog and entrepreneurs are often just that," Machacek said. "A big part of my job is to develop relationships with entrepreneurs, check in on them, ask them questions, and provide connections to people and programs. Some startups will share business plans and pitch decks with me to go through them and give that outsider critique. This is why it's important for startups to get out of their basements or garages to collect input to refine and validate their ideas."
Many of the connections to Halik's mentors and relevant organizations were recommendations from Machacek. "I'm so appreciative of everything they've done for me," Halik said. "John is unbelievable with connections."
In working with Aaron specifically, Machacek said, "He exemplifies a true entrepreneurial mind in that he executes on ideas and needed steps, instead of procrastinating or ignoring them. He does all of this while balancing a day job as well, which is extra impressive."
The GFMEDC partners with several other organizations in the region to support entrepreneurs. For example, Machacek collaborates closely with Emerging Prairie in a 1-2 punch system to strengthen the region's entrepreneurial ecosystem. In turn, this helps to cultivate an economic environment where all people and organizations flourish. "Us and other ecosystem partners have not only fostered more entrepreneurial and economic activity here, but this collective work has also fostered a community that embraces creativity, collaboration, and civic pride," Machacek said.
Gaining Momentum
Machacek introduced Halik to the West Central Trailblazer Challenge, a business pitch competition held in St. Cloud, Minnesota, in April and hosted by the ILT Academy. Halik and his dad made the pitch for Trimyxs together and earned $5,000 in grant funding for winning the challenge.
"It was a good father-son bonding experience," Halik said. "I always like meeting new people and listening to what their ideas are and what business they're trying to start up. Everybody was so humble and encouraging. It didn't feel like a competition."
His first place prize also awarded him an automatic qualification to the MN Cup competition. He is now preparing to pitch Trimyxs in the semifinals of the MN Cup, a program of the Holmes Center for Entrepreneurship at the University of Minnesota's Carlson School of Management. Through this competition, Halik has the opportunity to win up to $50,000 in grant funds to continue investing in Trimyxs.
Halik is appreciative of the staff at the NDSU Research & Technology Park Incubator for showing him around and making the connection to Del Carver at Service Corps of Retired Executives or SCORE. With insight from Carver, Halik was prompted to apply for America's Big Deal, a USA network television show in which he could potentially pitch the Trimyxs and viewers can purchase the product live. Halik has advanced to the second round of the application process.
"There's a lot of amazing resources," Halik said. "They don't all tie together perfectly. It's been one meeting this month, another meeting the next month. In the last three months, everyone is in the same room, but they're all different organizations. It has all come together."
With 500 units ready by June 15, 2022, Trimyxs will be ready for direct purchase through the Trimyxs website. Units will also be available on Amazon by July 2022. All money earned from the sales will be invested back into developing more units. This summer, Halik plans to attend trade shows, speak at Startup BREW Fargo organized by Emerging Prairie, and potentially have a booth at the MN State Fair with a goal of reaching more people looking to simplify their lawn care.
"For the last five years, I haven't made a single penny," Halik said. "This is an exciting time. We're finally getting the product out. Right now, the target is to sell the product so consumers can use it. Then, we'll see how it grows with the feedback we receive."
Where Trimyxs Has Been & Where it is Going
At five years into his journey, Halik's greatest takeaways include believing in yourself and surrounding yourself with friends, family, and other entrepreneurs that support you. "There's a lot of support in the community, especially the Fargo-Moorhead community," Halik said. "Don't be nervous. Don't be shy. Everybody that I've met so far is there to help you, listen to you, and to help you succeed."
Looking ahead, Halik's vision for Trimyxs is to mass produce it so it reaches wholesale stores. "I have the vision that one day I'll walk into Menards or Home Depot or Lowes and walk by the Trimyxs," Halik said. "I'll say, 'Hey, that's something I invented.' That would be something so cool to see, feel, and be in that moment at that time."
Halik's long term goal is to open his own manufacturing business. "Having a full-fledged business in operation with not only the Trimyxs," Halik said. "I have other ideas for upgrades and improvements.  I can't wait to have a design department and a team of manufacturers, an assembly line, logistics, and marketing. And, for those individuals to enjoy working there and experiencing the success that is happening."
How To Support Trimyxs
There are a number of ways to support Halik and the team at Trimyxs. For those interested in the product, visit the website to place an order. Spreading the word about Trimyxs on social media and connecting the Trimyxs team to appropriate individuals, hardware stores, or similar companies at a local or national level is also helpful.
Finally, Halik wants to give back and offer support for anyone in the process of developing a product. "So many people have given me their input," Halik said. "I'm willing to give feedback to others too. Feel free to reach out and I'll try my best to help."
Contact Aaron Halik at trimyxs@gmail.com.
Visit the website and place an order at https://www.trimyxs.com/.
Follow Trimyxs on Facebook (@trimyxs), Instagram (@trimyxs), TikTok (@trimyxs), and YouTube (@trimyxs).