Numbers may not tell the whole story, but used correctly, they certainly can provide some insight into a particular topic. For instance, the GFMEDC produces a monthly Economic Indicators report, sponsored by Starion Bank, that investors tell us is one of the most beneficial documents they receive from the EDC. This tool provides a snapshot of the regional economy and provides comparisons over time and against several other markets.
If you click on the report, which is always listed as the first resource we provide in our monthly newsletters, you'll find data on five significant economic variables – Labor Force, Housing, Cost of Living, Transportation, and Consumer Spending. I want to highlight what I believe these numbers to be saying:
Labor Force – Year-over-year labor force and employment growth have been stellar, both in terms of absolute growth but also against the nation. Even more impressive is the annual wage growth across our region, with Cass County leading the way at a 6.7% increase from last year. Unemployment still remains very low, but the most important indicators to economic success of a market is overall labor force and wage growth, and both are very positive.
Housing – Year-over-year building permits for housing are down 42%, but the majority of that is in multi-family. Though our region hasn't completed a comprehensive housing study, there is a general belief that we tend to have a rental housing market at a percentage greater than optimal. If that is true, then a slowing of multi-family units may be a sign of the market correcting itself. Median home values exceed $190,000 or 10% higher than Sioux Falls.
Cost of Living – At this time, our Adjusted Cost of Living is still very competitive to metropolitan markets we generally get compared to, but anecdotal evidence tends to show that people moving into the region have an expectation that it would be even more competitive, especially as it relates to housing and food costs.
Transportation – Hector International Airport continues to break month-over-month records for passenger numbers and is up more than 10% for the month and year.
Consumer Spending – The Federal Reserve announced this week that they are keeping interest rates steady, and there is some belief that this will be their position for the foreseeable future. In part, this is being done to target inflation growth at 2% and based on the consumer spending numbers in our region, it appears consumer goods pricing may be impacted by too low of inflation.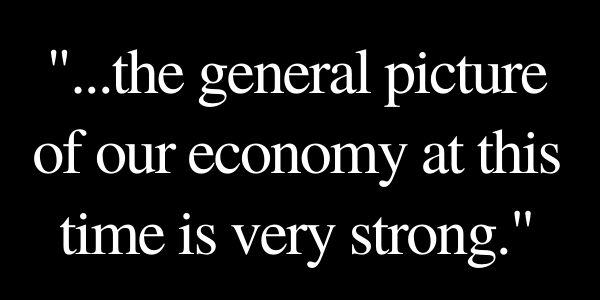 All in all, we are seeing more people working in our regional economy, working for higher wages, with overall cost of living and inflation remaining steady. Coupled with increased business and personal travel, the general picture of our economy at this time is very strong. And, with the states of Minnesota and North Dakota projecting positive tax revenues, one could say the macro-economic variables as we close out 2019 are certainly on the bullish side.
Joe Raso
President & CEO
Greater FM Economic Development Corporation