We're all about data-driven decisions here at the EDC. Here are a few of our favorite (and free) data sources for wages, community data and labor market demand.
A Go-To Tool
The American Community Survey is a go-to resource at the EDC. The most current, 2018, datasets are available via www.data.census.gov. This survey provides several points of interest and data like how government funds are spent. We use this report to pull data into our monthly Economic Indicators.
Tools for Wage Information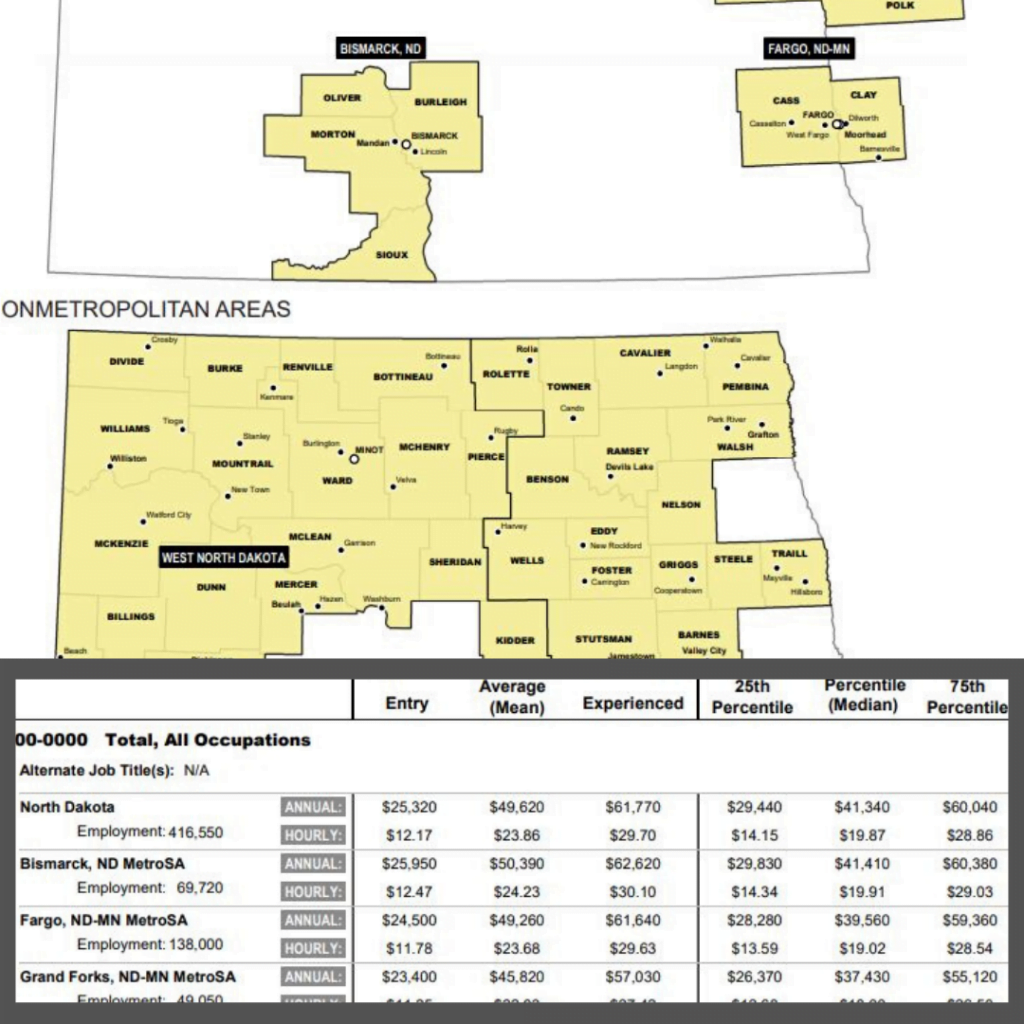 The Occupational Employment Statistics (OES) program provides employment and wage information for a wide range of geographies. According to the Bureau of Labor Statistics website, "The OES program produces employment and wage estimates annually for over 800 occupations. These estimates are available for the nation as a whole, for individual states, and for metropolitan and nonmetropolitan areas; national occupational estimates for specific industries are also available."
The following tools use the OES program as the source for their data:
Tools for Labor/Occupation Demand:
ND Job Service's Labor Demand Survey "The Labor Demand Survey (LDS) was developed to provide a more comprehensive measure of total job openings across North Dakota, including those not posted online. Quarterly results include an estimate of job openings for various geographic areas at industrial and occupational levels." The most recent data is for Q2 2019.
ND Job Service's Online Job Openings Report "…is a monthly summary of North Dakota job openings and active résumés and provides a timely overview of the latest supply/demand dynamic. The report involves the collection, processing, and dissemination of open and available online job openings posted by employers and active online résumés posted by job candidates." This is a monthly report and is segmented by planning regions.
Minnesota DEED's Occupation in Demand Data Tool "…allows you to find out what jobs are in high demand in each region of the state. The typical wage, long-term employment outlook, training (or degree) required and schools that offer training programs for each occupation are also listed." This tool uses the following data sources: Job Vacancy Survey, Occupational Employment Statistics, and Unemployment Insurance Claims. Data in the tool is from July 2019 with the next update due June 2020.
MN DEED's Job Vacancy Survey is a "Biannual survey of employers to estimate hiring demand and job vacancy characteristics by industry and occupation." Segmented by regions or available for the whole state, this survey easily displays vacancies and wage information. The most current data is for Q2 2019.
Interested in learning more?
Check out the MN Employment and Economic Development website here and ND Job Service's Labor Market Information here.
If you represent a primary-sector company* and are interested in data for a future project, we'd love to chat more. Please reach out to us at 701-364-1900 or info@gfmedc.com.
*Primary-sector companies export a majority of their goods and services outside the trade area bringing new wealth into the community. Examples of primary-sector companies are Microsoft, Bobcat or Aldevron.