Uncle Charlie's Gourmet Snacks: An entrepreneur who came from afar
This story is part of a series highlighting ways the GFMEDC supports area entrepreneurs.
When Clayton E. Cottman arrived in North Dakota, it wasn't with the intention of becoming a snack foods entrepreneur.
The Washington, D.C., native landed in Williston, planning to work in the oil fields. When he went to interviews, though, he was told he came a year and a half too late.
"What now?" he wondered.
Hearing Fargo was a good place to live, he jogged back a little to the east, found a home and returned to his original skillset—culinary arts—taking a job with Sysco. Along the way he tasted some "puppy chow" snack mix and set out to create his own version of the popular treat.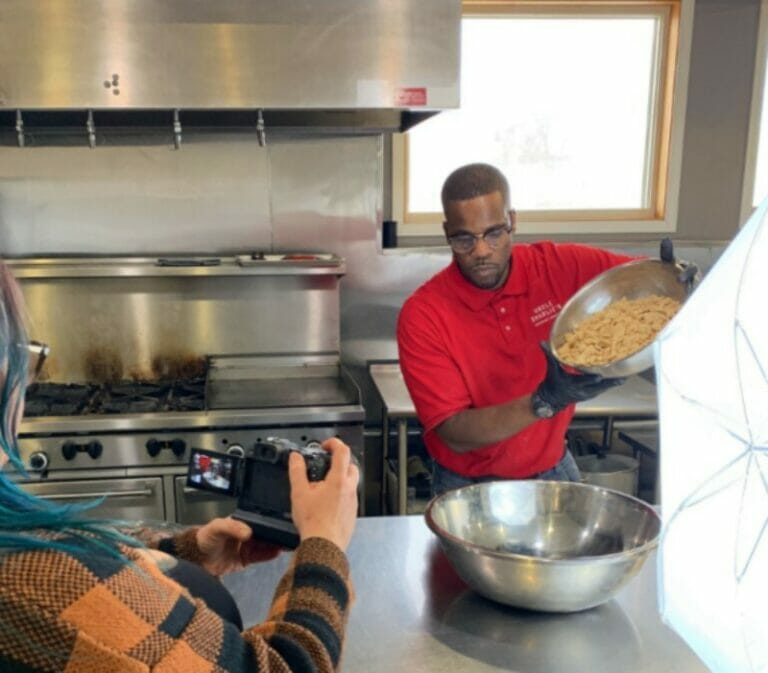 So began Uncle Charlie's Gourmet Snacks. Named for Cottman's great uncle, its six flavors are made in Fargo and shipped as far afield as California, Texas, Florida and Maryland. Now partnered with Bischof Distributing, Cottman anticipates Charlie's Chow will be available in every convenience and grocery store in a 500-mile radius by third quarter this year. His next goal is to go national.
Asked what got his dream project off the ground, Cottman points to Emerging Prairie's StartupBREW program—a weekly gathering "for entrepreneurs, innovators, creatives, and community members alike to come together and explore the entrepreneurial journey"—and people like the EDC's John Machacek.
"John reached out to me very early in the process, and he's been with us from day one," Cottman said, recalling that they first connected over social media. Machacek saw Cottman's posts about gourmet-flavored puppy chow, a twist on something a lot of Midwesterners grew up eating.
"The EDC has helped in a way that's hard to put into words," he said. "Everybody there is completely accessible. I aim to make them proud, and I aim to make the state proud—but especially the early adopters like John and the EDC."
Through the EDC, Cottman obtained an Early Venture Microloan from the GFMEDC's Growth Initiative Fund, which helped him build inventory and make his first few hires.
"It helped create a foundation for our company to stand on, setting us on a trajectory for even more funding and support from the Fargo-Moorhead community," he said. The microloan has done just that, with Uncle Charlie's recently being approved for additional financing from the state's North Dakota Development Fund.
Others who helped him nudge the concept along include the people with the SCORE mentoring program and Jenny Sheets, director of Startup Programs at Emerging Prairie.
Cottman said he never expected to find this kind of thriving, resource-rich business community in Fargo-Moorhead.
"There's something very special about this place and the business community here. I'm glad to be part of it," he said. "We have a great mix of innovative startups and established companies that are willing to help each other out."
In addition to growing his company, Cottman believes Uncle Charlie's Gourmet Snacks has the potential to have a "legendary" impact on the community.
"We aim to make history as the first minority-owned snack company in North Dakota history to do more than one million dollars in sales revenue," he said. "I hope that my story will inspire other entrepreneurs to let go of excuses and overcome challenges."