Workforce challenges for the Fargo, Moorhead and West Fargo metro don't have short-term fixes. However, there are solutions in sight, and they start in a not-so-typical classroom. Two separate career academies are now in the community, in part thanks to Fueling Our Future (FOF). The Moorhead High School Career Academy opened in fall 2021, and the Cass County Career Innovation Center (CIC) will open in fall 2023. 
These career academies are focused on providing a collaborative education and training solution to meet regional workforce needs. Students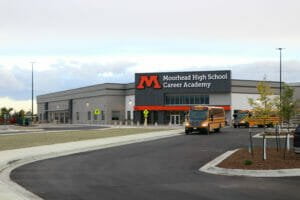 will experience a more personalized and modern education at an earlier age to help them learn more about their desired careers and explore careers they may have never been exposed to. 
For the CIC, North Dakota State College of Science (NDSCS) will provide training and academic programming with Fargo Public Schools, West Fargo Public Schools, Central Cass School District and Northern Cass School District. Current workforce members and new Americans will also benefit from this program. 
NDSCS Vice President for Student Affairs and Strategy Dr. Jane Vangsness Frisch says, "Fueling Our Future has provided the CIC resources to better understand the needs of the region to ensure the CIC will best meet the critical workforce needs now and in the future. This critical information, coupled with the generous financial support, enabled the CIC 'dream' to become a reality."  
FOF was also instrumental in securing funding for the Moorhead High School Career Academy by dedicating funds for the "Yes for Moorhead" campaign. This effort promoted the positive impacts of the career academy and encouraged people to vote "yes" for a bond referendum that funds the program – and it worked. The referendum passed overwhelmingly in 2019. 
Moorhead Area Public Schools Superintendent Dr. Brandon Lunak says, "By connecting students to career pathways and local companies earlier on, it increases the likelihood of a student staying local after high school graduation." Lunak goes on to say, "Collaborations with local businesses and organizations are what drives the success of our career academy. If you are interested in becoming involved at any level, visit their website to learn more." 
When both of these career academies are operational, thousands of students in the metro will benefit from the training every year, providing a more skilled workforce for our community.