The Greater Fargo Moorhead EDC, ND Department of Commerce, and Cities of Fargo and Moorhead welcome you to an Opportunity Zone Forum to learn more about the impacts of this program to the business community. Fargo-Moorhead has six federally designated Opportunity Zones (OZ) (maps below).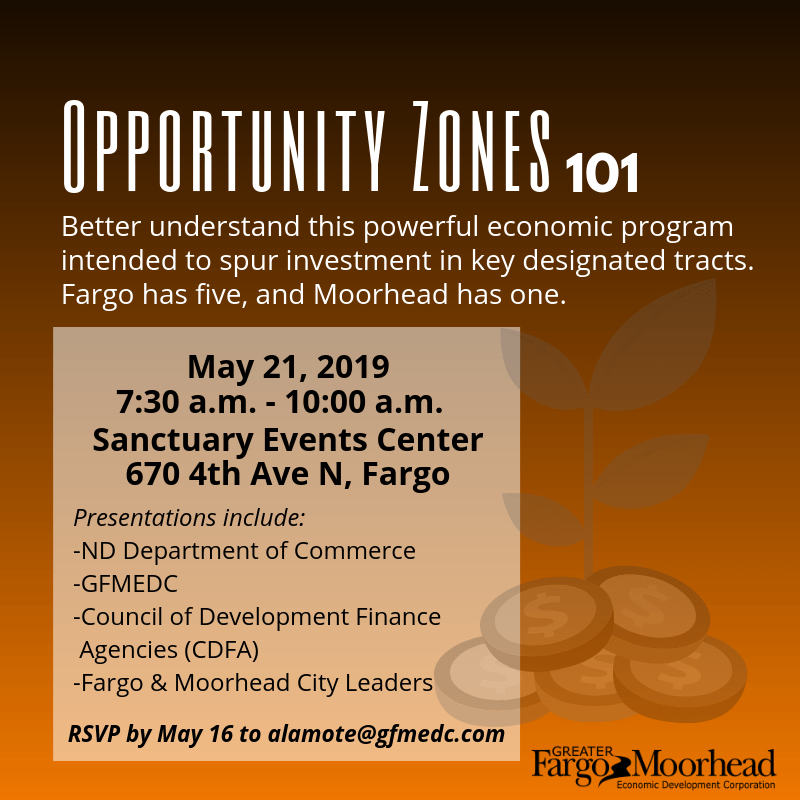 We recognize a need to spread awareness and educate members of the business community about the implications and impacts of this program and how it can be used to support capital investments, business expansion, and overall business growth strategy.
During the forum, experts will share the basics of the OZ program, technical considerations, financial strategy, and explain how the OZ program can be utilized as a tool towards future business growth or capital investments. Remarks and presentations by GFMEDC, Cities of Fargo and Moorhead, ND Department of Commerce, Council of Development Finance Agencies and more.
Fargo-Moorhead Opportunity Zone Forum
Tuesday, May 21 | 7:30 – 10:00 a.m.
Networking from 9:30 – 10:00 a.m.
Sanctuary Events Center, 640 4th Ave. N, Fargo
RSVP to Arica Lamote by Thursday, May 16 at alamote@gfmedc.com or (701) 364-1910
North Dakota Opportunity Zone Map