In late January, I had the opportunity of making a presentation on "The New World of Work" at the 50th Annual Clay County Intergovernmental Retreat. One of the great pleasures of doing this talk was I was joined by my life partner, Bree Langemo, who just happens to be a global thought leader on workforce development and creating an entrepreneurial mindset to unleash human potential.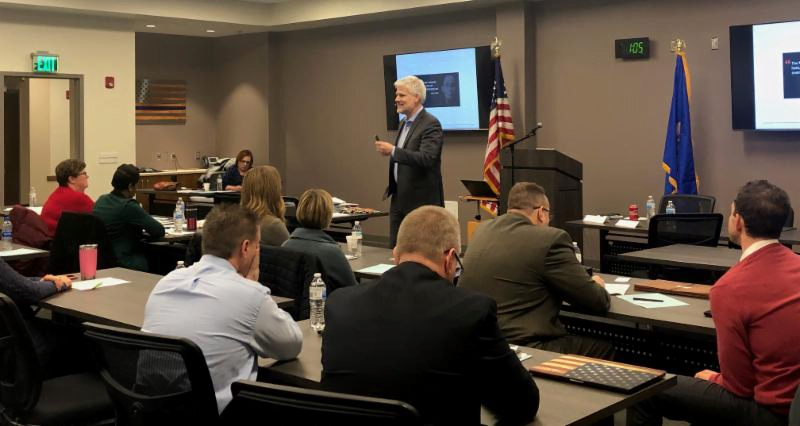 In markets around the country, economic development professionals are bombarded by the call to help our existing companies address their immediate workforce needs. In the Fargo Moorhead MSA our unemployment rate has hovered around 2% for years, and at any one time we can look to Indeed or other job boards to find thousands of available jobs. Believe me, the message is not lost on your EDC staff that we have to continue to address the immediate and short-term needs of our primary-sector employers. In fact, a set of strategic initiatives are being finalized to aid in these immediate needs. But, as we work on helping to fill critical positions for our existing companies, it also makes good sense to view the issue of talent and work from other angles and through long-range lenses should the future start looking different from what we face today. For example, if we look at workforce from a productivity angle and not just a headcount perspective, we may come to realize the labor force may not be fully tapped in terms of productivity and engagement. It is sometimes hard to fathom, but for many years now, Gallup surveys have shown that the US workforce is disengaged in their work at a staggering 70%. This lack of passion and purpose in our work should be cause for concern as much as any unemployment statistic. There has been considerable study on the issue of disengagement in the workforce, and more importantly, research has been done to uncover the learned attitudes and characteristics of those who are hyper-engaged in their work. Bree spoke about these attributes at the Intergovernmental Retreat, and I've included a link to two resources she provided the attendees: What is your Workplace Mindset? Infographic, Blog & eBook: https://elimindset.com/improve-employee-engagement/Driving Engagement & Innovation in Government Blog & eBook: https://elimindset.com/driving-engagement-innovation-in-government/
Can you imagine if every employee in the FM Region possessed and practiced the thinking and habits of the most successful entrepreneurs; instilling behaviors and beliefs that anyone can acquire? Doing so would prepare us for the inevitable economic and workforce changes to come and put not just our companies in a position to compete, but build a community that will attract and retain the young-minded thinkers needed to be competitive in the 21st Century.
Joe Raso
President, Greater FM Economic Development Corporation